Five guys opened in Harlow recently and everyone has been raving about it
So I thought I would try it out
When you walk in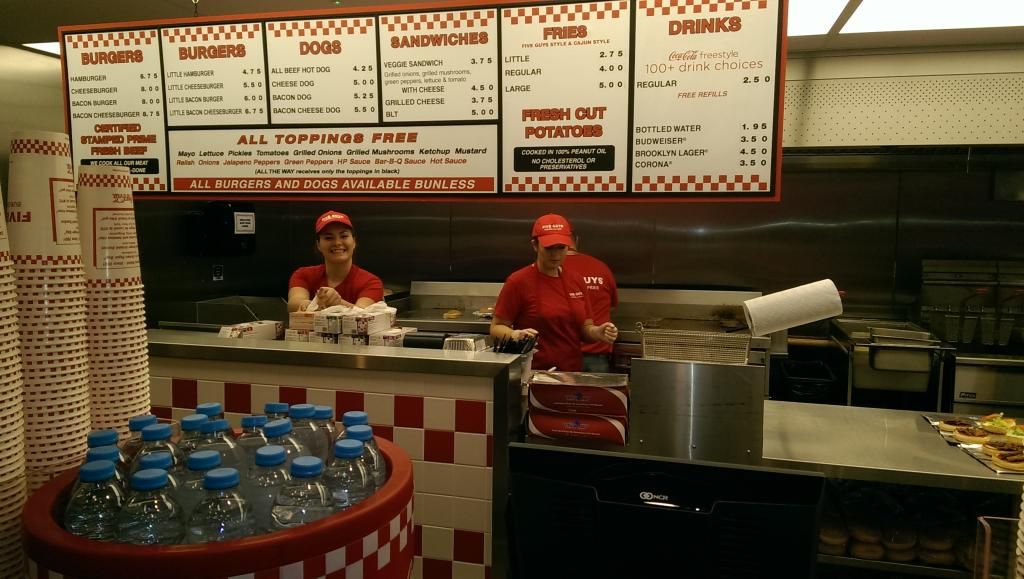 You're greeted by happy friendly staff, and the piles and piles of free monkey nuts!
I mean people said to me about the free monkey nuts, I thought maybe you just had a little pile to try, but there's bags of the stuff!
I'm not really that big of a fan of them so I got them just to have the experience, but I tell you what, those were some pretty nice monkey nuts!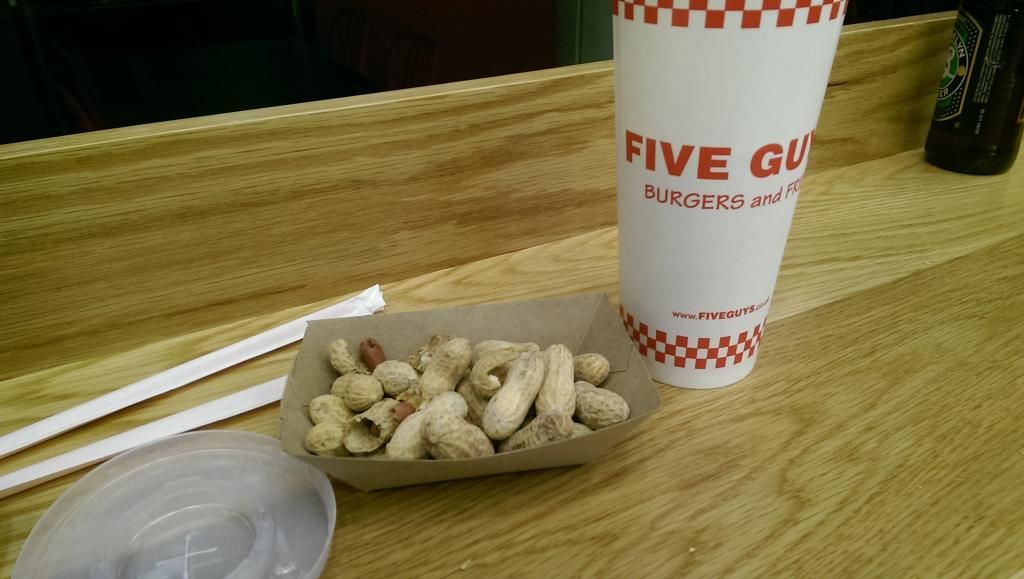 You grab a seat with your nuts and drink (more on that later) and after a short while your order is ready
Now this is what these guys are known for, as the brown bag company, no logos because they don't need them! It's all word of mouth!
The Food
You rip the bag open and are surprised at not just how many fries are in the bag, you get about 2 cups worth, but also the smell of cajun fries!
And then you open the foil wrapped goodness
Now this is a tasty burger, none of that dull, flavourless type of sandwich you get at many other places with the acidic aftertaste. You get only the best fresh ingredients in this. The burger is cooked to juicy perfection and they don't use any ammoniated procedures to treat their beef, plus everything is chilled, nothing is frozen
Also with Five Guys, although they may only have a choice of four different burgers or hot dogs to choose from, with their selection of free toppings there are actually over 250,000 possible ways to order a burger.
I went for the bacon cheeseburger, which is two burgers, all normal burgers you get two of. With a mixture of BBQ sauce and mayo, fried onions and pickles
The Drink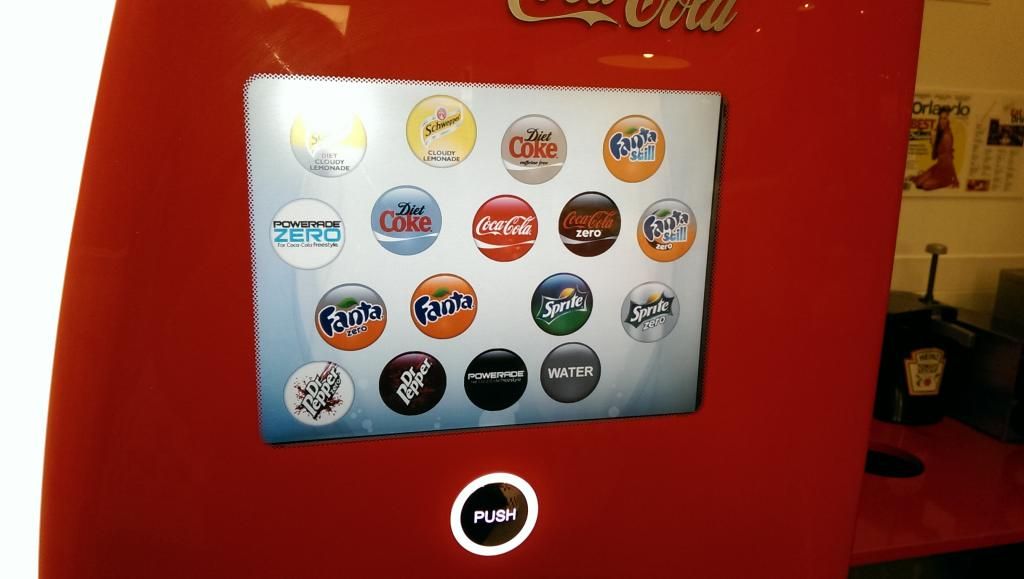 These gizmos give you over 100+ drinks to choose from
You basically put in your drink of choice, say Coca-Cola. Then it will give you lots of variations on it. You could choose simple Coke, or vanilla, cherry, or lemon coke which have been in some shape or form in the shops. But then you get extra flavours, like peach, raspberry, grape or orange to also add to the coke flavour
That last combination was kind of interesting, Orange Coke to me tastes a bit like Christmas. It's very hard to explain why but the people that I've mentioned it to have agreed with me
They also serve a couple of different beers if that's your thing (like my friend Matt here), although with the spicy cajun fries you're gonna want to quench your thirst with a lovely cold fizzy drink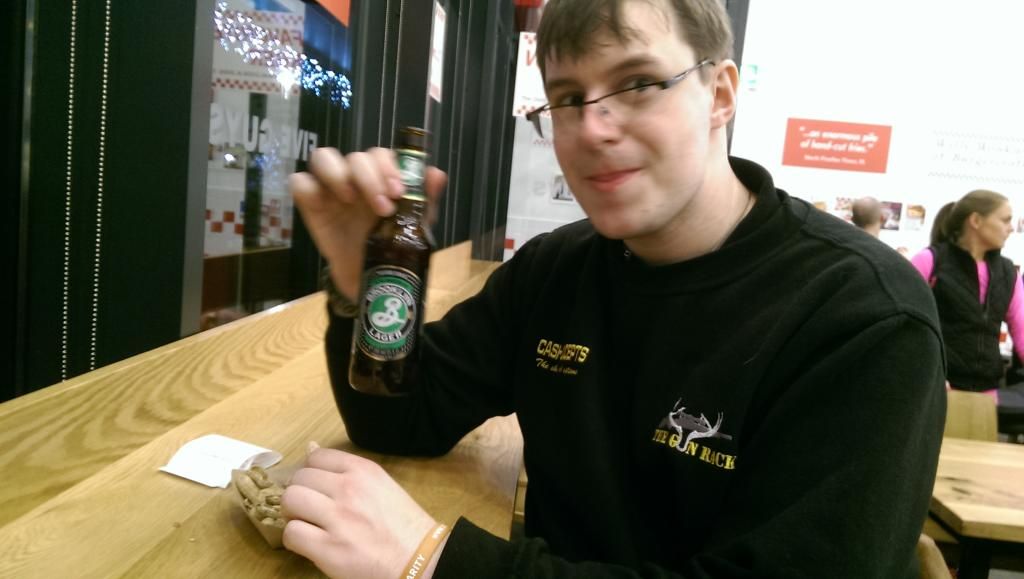 The Downsides
With all the monkey nuts and fries being cooked in peanut oil it may not be a place to go if you have a nut allergy.
It is pricey but I think it's totally worth trying, here...I'll tell you a story
The Feels
Something strange was happening to me when I ate that burger, I felt an overwhelming sense of nostalgia, but how could I be feeling this when I had never visited a Five Guys before???
Had I gone to one before and simply forgotten?
No....
Was I having a retro call back and I was actually reminiscing about it in the distant future when I was telling my grandkids when we used to eat meat???
No, now stop that. It's gotten a little too silly
It was actually the feeling I got when I was a kid trying my first Burger King/McDonalds, back when a trip to a place like that would be a special occasion like a birthday, rather than the daily place that it seems to be for many people
I was 10 years old again, after a trip to Toys R Us to get the Beano for my birthday, biting into that Burger King kids meal with my crown on, experiencing that burger for the first time
That's what this place is selling, it may be a tad more expensive than other places, but you're getting fresh ingredients, a friendly place and the experience
And from the messages on this board, although some of them may not know it, have likely felt the same thing
Have YOU tried Five Guys? All at Once? Post how your experience was in the comments below or on Facebook!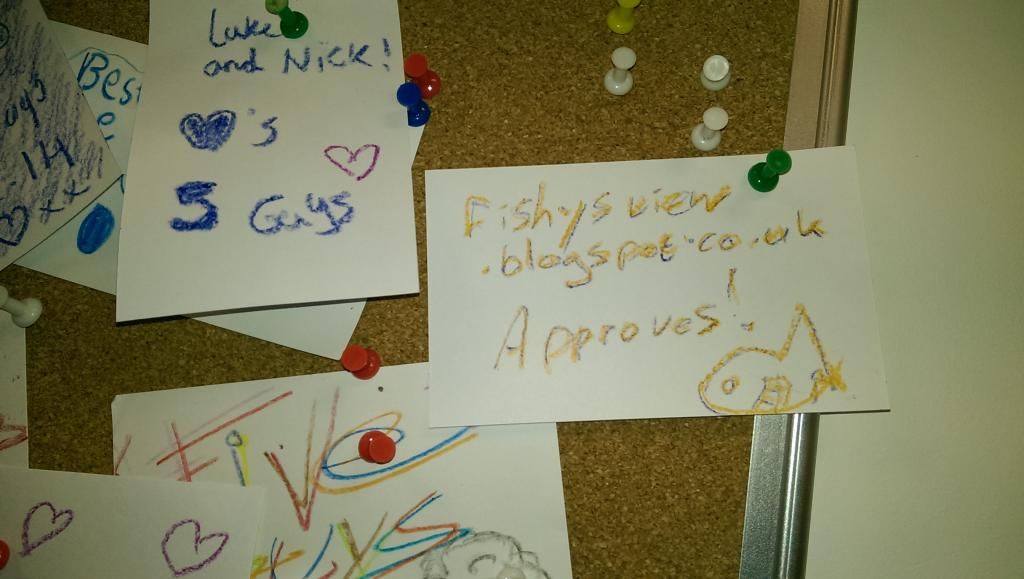 .