Saw Men in Black 3
\o/
today
in gloriously bright 2D!!!
Info
Certificate – PG
Running time – 103
Scene after the credits – There was for 1 and 2 but not 3 ;_;
Cast –
Will Smith
as Agent J
Tommy Lee Jones
as Agent K
Josh Brolin
as young Agent K
Jemaine Clement
as Boris the Animall
The plot
Agents J and K are back...IN TIME
J has seen some inexplicable thing in his 15 years with the Men in Black, but nothing, not even aliens, perplexes him as much as his wry, reticent partner. But when K's life and the fate of the planet are put at stake, Agent J will have to travel back in time to put things right
J discovers that there are secrets that will reveal themselves as he teams up with the young Agent K to save his partner, the agency, and the future of humankind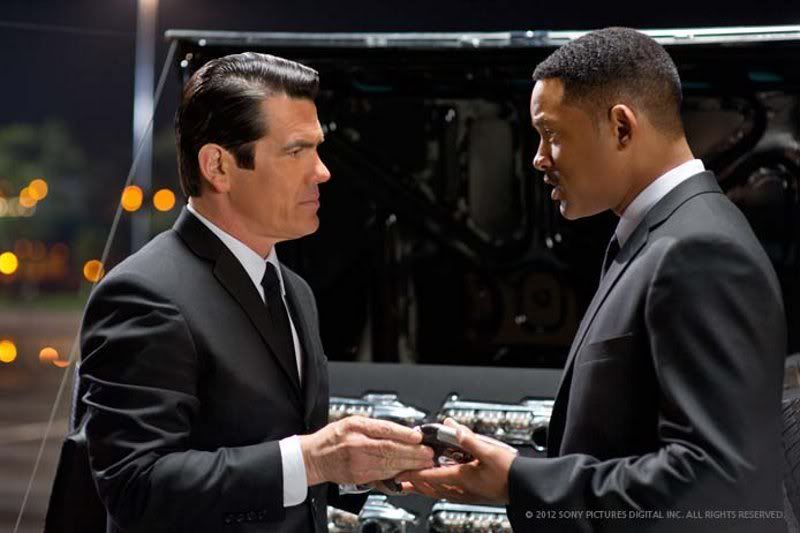 What's right with it?
There are some great action sequences and a few funny moments.
Josh Brolin just shines as a young Tommy Lee Jones. He sounds just like him.
Jemaine as Boris is pure brilliance. He has a face that only mothers could love and I'm sure he has a mean handshake. The special effects for him are creepy as hell and look realistic.
It's great seeing the Men in Black agency of 69, especially with the 60s inspired aliens hanging around it, but.....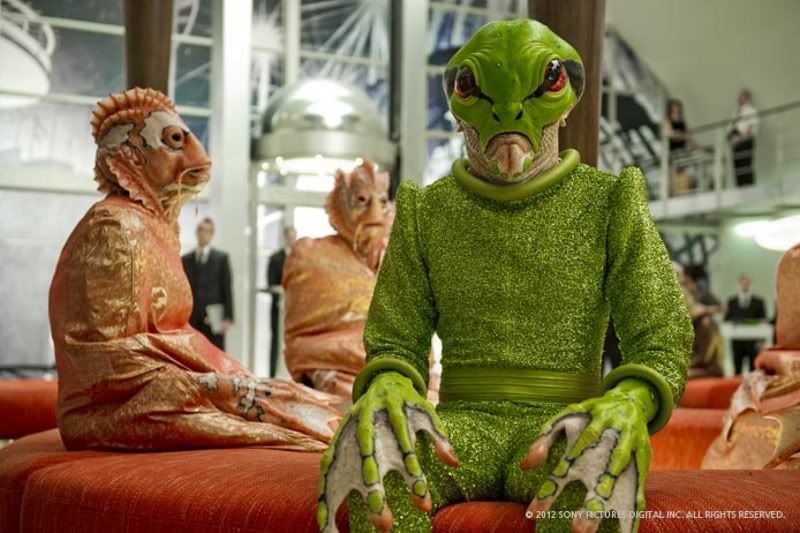 What's wrong with it?
....more could have been done with it. We're there for only 10 minutes and only see some of the earlier technology.
Some of the jokes do fall flat.
The Agents don't seem to have been up to anything for 10 years, just the same old shit.
You can see the ending coming a mile away.
Best Scene?
Boris arguing with his past self or the gyro-bike chase sequence.
Best Quotes?
Agent J: [to '69 police officers] ...And don't assume the car is stolen just because a black man is driving... well, I stole this one.. but not because I'm black!
Agent J: When I see a couple, I'm like OK.
Bonus Trivia
The previous film Men in Black II was released the same year as Spider-Man. This film, the sequel, releases ten years later; the same year as the reboot The Amazing Spider-Man.
This is the second threequel Steven Spielberg produced that involves Apollo 11 in its storyline. The first was Transformers: Dark of the Moon which focused on a Transformer ship discovered by Apollo.
Agent J travels from 2012 to 1969, 43 years into the past. The young Agent K, played by Josh Brolin is only 21 years and 5 months younger than Tommy Lee Jones, who plays the older Agent K.
Final Thoughts
It's good, much better than 2 and I like the time travel aspect of it, but it never gets overly complicated
My Advice?
If you're a massive fan watch it in the cinema
otherwise
wait for the Doovdé