Saw American Pie: Reunion the other day
\o/
Info
Certificate – 15
Running time – 113
Scene after the credits – During the credits and boy is it a doozy!
Cast –
Jason Biggs
as Jim
Alyson Hannigan
as Michelle
Thomas Nicholas
as Kevin
Tara Reid
as Vicky
Chris Klein
as Oz
Mena Suvari
as Heather
Seann Scott
as Stifler
Eddie Thomas
as Finch
Jennifer Coolidge
as Stifler's Mom
Eugene Levy
as Jim's Dad
The plot
Over a decade has passed and the gang return to East Great Falls, Michigan, for the weekend. They will discover how their lives have developed as they gather for their high school reunion.
How has life treated Michelle, Jim, Stifler, and their friends?
What's right with it?
It's just awesome that they got all of the original cast together and it is an utter joy seeing what the characters have been up to since American Pie 3 - The Wedding.
I think it has just the right level of nostalgia in the actual film to pull on your heartstrings while still having some great jokes and awesome boobies.
There are some great character arcs too, with some new characters added into the mix.
What's wrong with it?
It is a must to have seen the first American Pie film. Granted a lot of people my age would have been at the right age to see it, kids nowadays have had to put up with films four to seven in the meantime which may have soured a lot of memories of the first 3 films.
One character in particular, Kara's boyfriend, seems like he was pulled out of an 80s teen comedy and is completely one dimensional but I suppose he's written that way to make you not care for him and root for the original characters.
Best Scene?
It has to be Jim's dad getting drunk
Best Quote?
Kevin: Were we just as obnoxious as these kids back in the day?
Finch: Not us, our generation, we were more mature.
Stifler: Check it out vagina shark.
[goes under water, girls scream]
Finch: I take that back.
Stifler: Hey Kevin, when did your face turn into a vagina?
Bonus Trivia
At eight films, Eugene Levy has become the only actor to be in every film in the American Pie franchise.
According to Producer Chris Moore, Jason Biggs (Jim) and Seann William Scott (Stifler) signed on first and were given Executive Producer credits. They were then tasked with convincing everyone else to come back for the reunion, which involved some heavy negotiating - some wanted more money, others needed the schedule altered.
Chris Klein did his own dancing for Oz's "Celebrity Dance-Off" routine. Klein went to dance workshops with choreographers as well as adding his own moves to fit with his character. However, his routine was shortened in the final cut.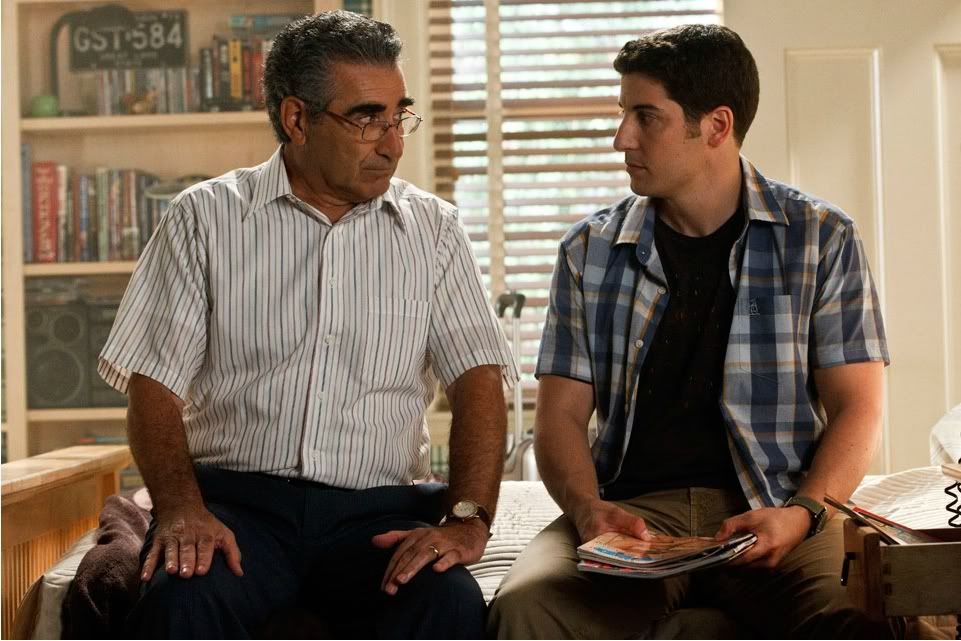 Final Thoughts
It's good, much better than I thought it would be.
My Advice?
If you're a fan of the first three films you'll love this.
Also I nostalgia'd good and hard when this song started playing. Loved it since the first American Pie film when they played it in the post graduation/coitus scene.