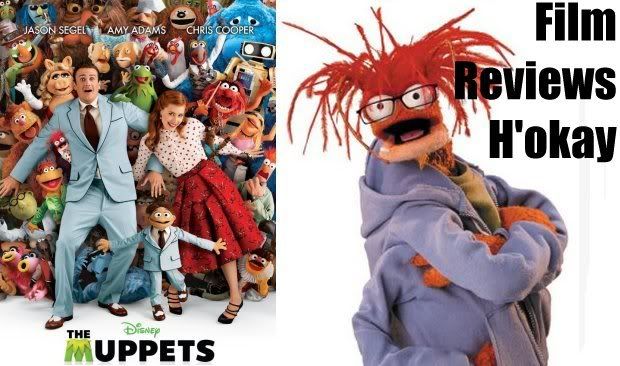 Saw The Muppets today yay
\o/
Info
Certificate – U
Running time – 103
Scene after the credits – During the credits
Cast –
Jason Segel
as Gary
Amy Adams
as Mary
Peter Linz
as Walter
The plot
When 3 muppet fans learn that Tex Richman wants to drill under the muppet theater for oil, Gary, Mary and Walter set out to find the muppets who have been split up for years
What's right with it?
Every film they brought out after A Muppets Christmas Carol in 1992 was okay, and they tried to bring the success of the Muppet Show with Muppets tonight in 1996 which kind of worked but with this it is truly a return to greatness for The Muppets
I think it has just the right level of nostalgia in the actual film to pull on your heartstrings
There are a ton of inside jokes as well that only a true Muppet fan would get
Plus with some great new songs written by Flight of the Conchords own Bret McKenzie along with the oldies and performances that will leave you smiling all throughout….
What's wrong with it?
but….only if you're a big Muppet fan. If they aren't your cup of tea then I doubt you'll enjoy this.
Muppets are like Marmite in that way, they spread easily on toast and both start with an M
Pepe is my favourite character, but seeing as this is more of a the Muppets getting back to their roots story and he is a pretty recent character he only gets one line ;_;
Best Scene?
The whole of the Muppet telethon scene
Best Quote?
Animal: No drums! No drums! Jack Black said no drums!
Fozzie Moopet: Yo, what the waka, man?
Walter: Am I a Muppet, or am I a man? If I'm a man, I'm a Muppet of a man.
Gary: So you guys aren't getting back together?
Kermit the Frog: [sadly] No.
Mary: This is going to be a really short movie.
Bonus Trivia
A picture of Jim Henson appears on a poster outside of the Muppet Theater and a picture of him with Kermit appears on the wall in Kermit's old office.
During the Muppet Telethon, the chickens clucked a rendition of Cee-Lo Green's "Forget You'. At The 53rd Annual Grammy Awards, Green performed the same song wearing a feathery costume that paid homage to Sir Elton John's 25 October 1977 appearance on the Elton John episode of the original Muppet Show
At one point in the movie, Rico Rodriguez who plays Manny on Modern Family, which airs on ABC, asks Kermit if he's a Ninja Turtle. The Muppets were Made by Jim Henson, who also made the Animatronics for the Live Action Ninja Turtle film and its sequel.
An appearance by Elmo of Sesame Street was planned for a scene where lawyers would have nixed an attempt by the Muppets to have him host their show. According to Jason Segel, the cameo itself was forbidden by lawyers. Sesame Street characters had previously made cameos in The Muppet Show, The Muppet Movie, The Great Muppet Caper, The Muppets Take Manhattan and various specials, but have not done so since the purchase of the Muppet characters by Disney in 2004.
When Walter plays the piano, he references an amnesiac Kermit the Frog trying to remember "Together Again" when he played those same notes in The Muppets Take Manhattan. "Together Again" is also sung by Bobo and Uncle Deadly and a photo of Kermit and Piggy's "marriage" is shown from said film
The first theatrical Muppet film that Frank Oz wasn't involved with. Oz performed and voiced Miss Piggy, Fozzy Bear, Animal, Sam the Eagle, Swedish Chef and various other Muppets in all the TV shows and all the movies. Eric Jacobson has since taken over all of Oz's characters.
Final Thoughts
With all the hype and spoof trailers I didn't think it could possibly live up to the hype
I was wrong
My Advice?
Go watch it!!!
I'll leave you with these
The classic intro
and the lesser known Muppets Tonight intro