or to give it its full title "Sherlock Holmes – A Game of Shadows"
Saw it today ^_^
Info
Certificate – PG - 13
Running time – 129 minutes
Scene after the credits – Nope
Cast –
Robert Downey Jr.
as Sherlock Holmes
Jude Law
as Dr. John Watson
Jared Harris
as Professor Moriarty
The plot
Sherlock Holmes and his longtime trusted associate, Doctor Watson, join forces to outwit and bring down their fiercest adversary, Professor Moriarty, with the help of Holmes's older brother Mycroft Holmes and a gypsy named Sim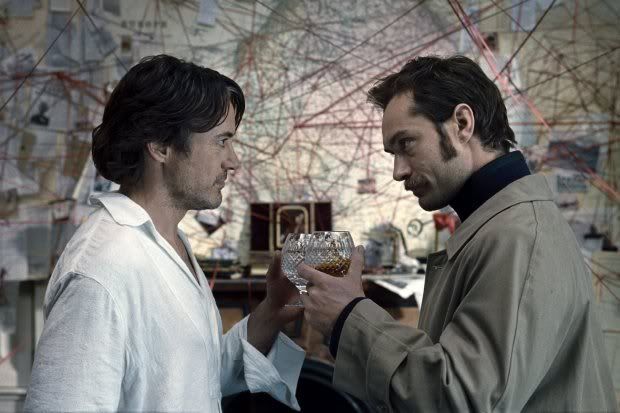 What's right with it?
Downey has the perfect amount of manic in his performances to get yourself an enjoyable quirky Holmes, and his many disguises are awesome
Lots of funny moments, especially with Holmes brother
Jared plays an awesome Moriarty. Him and Downey play off each other so well
What's wrong with it?
The slow-mo Sherlock fight scenes are great, but the overuse of it in other areas make these feel lees special
I thought it was going to be too long like the first one but its a good length
Best Scene?
The train scene
Or any scene with Sherlocks brother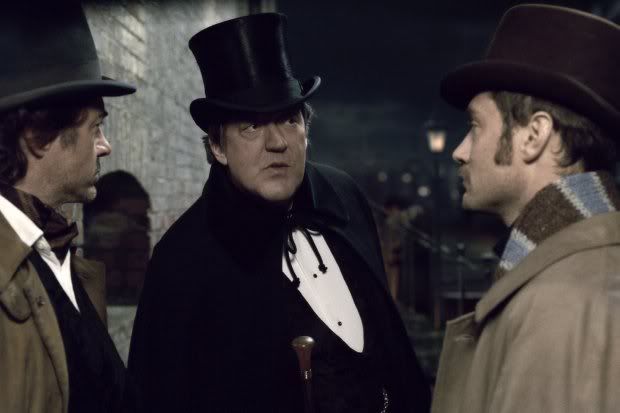 Best Quote?
Dr. John Watson: [as he watches Sherlock drinking embalming fluid] You're drinking embalming fluid?
Sherlock Holmes: [exhales] Yes. Care for a drop?
Dr. John Watson: You do seem...
Sherlock Holmes: Excited?
Dr. John Watson: Manic.
Sherlock Holmes: I am.
Dr. John Watson: Verging on...
Sherlock Holmes: Ecstatic?
Dr. John Watson: Psychotic.
Dr. John Watson: [pause] I should've brought you a sedative.
Sherlock Holmes: [lights pipe]
Dr. John Watson: What are we doing down here?
Sherlock Holmes: *We* are waiting. *I* am smoking.
Mycroft Holmes: [referring to Watson] You know, he's nothing like as slow witted as you've been leading me to believe, Sherly.
Bonus Trivia
Due to Warner Bros.' fast-tracking of this sequel, director Guy Ritchie was forced to drop out of an adaptation of Lobo, while Robert Downey Jr. was forced to drop out of Cowboys & Aliens
At the beginning when Watson is typing, the camera pans over typed excerpts from Doyle's stories, including "The Blue Carbuncle" and "A Study in Scarlet."
The medals Watson wears during his stag party are the Afghan War Medal (red and green ribbon) and the Kandahar Bronze Star (multi-colored striped ribbon), which would make Watson a veteran of the Second Afghan War (1878-1880).
The movie is primarily based on the short story "The Final Problem" by Sir Arthur Conan Doyle, but also shows aspects from other Sherlock Holmes stories: "The Sign of Four"; "The Greek Interpretor"; "Valley of Fear"; "The Speckled Band"; "The Dying Detective"; "Bruce Partington Plans"; and "The Second Stain".
The text of the note that Holmes leaves Watson on the packing crate reads: "Come at once if convenient. If inconvenient come all the same". This quote is taken directly from Holmes creator Arthur Conan Doyle's book The Adventure of the Creeping Man.
Final Thoughts
It's a much better story than the first one and delving into Holmes mind is always a joy
For those wanting a less action orientated detective should check out the awesome series on BBC starring Benedict Cumberbatch
My Advice?
Go watch it!!!