It's Halloween!!!
What do you do on Halloween?
Go and see Rocky Horror at the cinema of course
*Keep this between us, but I've never actually seen RH all the way through, I just know certain bits*
*Don't hold it against me*
I see you shiver!
With antici………
Info
Certificate – 12
Running time – 100 minutes
Scene after the credits – Nope
Cast –
Tim Curry
as Dr. Frank-N-Furter
Susan Sarandon
as Janet Weiss
Barry Bostwick
as Brad Majors
Richard O'Brien
as Riff-Raff
Peter Hinwood
as Rocky Horror
The plot
A newly engaged couple have a breakdown in an isolated area and must pay a call to the bizarre residence of Dr. Frank-N-Furter.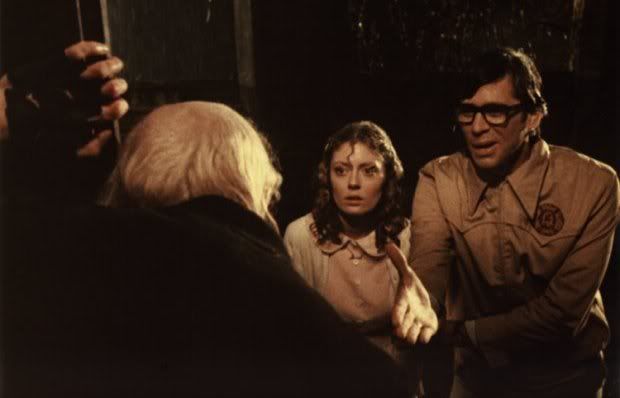 What's right with it?
Susan Sarandon in a bra for most of the film is probably the greatest thing in cinema history
Also the moment Tim Curry arrives he just oozes sexuality across the silver screen, it's a wonder to behold
What's wrong with it?
I know I'm going to annoy a lot of fans here when I say some of the songs did drag
But you have to understand, I'm a Rocky Horror virgin, so don't hold it against me, or that ;)
Best Scene?
This
or this
I cant decide although Tim Curry as a Sweet Transvestite from Transsexual Transylvania is pretty EPIC!!!
Best Quote?
Frank: A mental mind fuck can be nice.
Frank: [singing] I'm just a sweet transvestite, from Transsexual Transylvania.
Magenta: I ask for nothing!
Frank: And you shall receive it, IN ABUNDANCE!
Riff Raff: With a bit of a mind flip...
Magenta: You're into a time slip...
Riff Raff: And nothing can ever be the same.
Magenta: You're spaced out on sensation. HAH!
Riff Raff: Like you're under sedation!
All: Let's do the time warp again!
Bonus Trivia
In the opening wedding scene, the minister is Tim Curry (Dr. Frank N. Furter), the "old man" to his left is Richard O'Brien (Riff Raff) and the "wife" to his right is Patricia Quinn (Magenta). The spinster who joins them inside the church is Nell Campbell, a.k.a. Little Nell (Columbia). They are parodying the famous American Gothic painting, which appears later on in the castle.
Most of the actors weren't told of the prop corpse of Eddie under the dining room tablecloth. When it was revealed during filming, their looks of horror are geniune.
One night, during a typical midnight screening at a New York theater, a patron was asked to leave before the film ended. This patron was accused of being an impostor. The patron was Tim Curry.
The film was originally intended to be shown in black and white until Frank's entrance, and then only his lips would be in color: the rest would still be in black and white, up until the end of Sweet Transvestite, at which point it would go immediately to color, and then it was supposed to stay in color up until the Superheroes song.
When we see the castle at the start, the camera zooms in onto a crystal dome on top of the castle. This would appear to be the same dome used in Richard O'Brien's series The Crystal Maze.
The dress that Dr. Frank 'n' Furter wears has a pink triangle over his heart. The triangle was used by the Nazis in concentration camps to denote that the wearer was a gay man, but it pointing downward. The pink triangle pointing upward is often used as a symbol of gay pride
Tim Curry said that he got to meet Prince Charles and Princess Diana because she loved Curry in The Rocky Horror Picture Show and she requested the meeting while he was in a production of "Love for Love" that they attended. Curry recalled that he was placed at the end of the receiving line, and while Prince Charles only vaguely recognized Curry from seeing him "on television," Princess Diana told Curry, with a "wicked smile," that Rocky Horror had "quite completed my education."
Final Thoughts
This is a cult classic.
EVERYONE should watch this at some point in their lives
I'm just ashamed I put it off for so long
My Advice?
WATCH IT!!!!!
……Pation