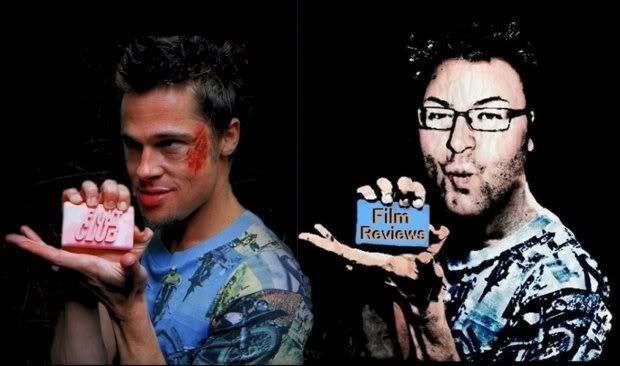 I'm gonna keep away from Spoilers for this review, it should really be watched without knowing specific things
The 1st rule of Fight Club is you do not talk about Fight Club
The 2nd rule of Fight Club is you DO NOT talk about Fight Club!
Guess I just broke the first two rules…
Info
Certificate – 18
Running time – 139 minutes
Version Reviewed – Doovdé
Scene after the credits – Nope. But something briefly pops up just as the credits come up. If you watch it and remember what Tyler spliced into the kids film you'll know what it is
Cast –
Edward Norton
as The Narrator
Brad Pitt
as Tyler Durden
Helena Bonham Carter
as Marla Singer
Meat Loaf
as Robert 'Bob' Paulson
The plot
A ticking-time-bomb insomniac and a slippery soap salesman channel primal male aggression into a shocking new form of therapy.
Their concept catches on, with underground "fight clubs" forming in every town, until an eccentric gets in the way and ignites an out-of-control spiral toward oblivion
What's right with it?
Brad Pitt in this is just EPIC. I think he's my favourite actor for his role in this and Twelve Monkeys.
The movie speaks to me on a very personal level. It makes you look at who really controls your life: you or your fears. Once you make that distinction, you then have the choice to take control or not. It's better to have options than to be eternally bemoaning your lot
Whenever I feel like things are becoming a bit overwhelming, I pop this on
What's wrong with it?
A lot of people think that Fight Club is about fighting and violence. It isn't. Although the really violent fight scenes don't help with that fact
The "Richest Creamiest Fat" scene still makes me retch
Best Scene?
The Narrator tells us about Tyler before their first fight
Best Quotes?
Narrator: This is Bob. Bob had bitch tits.
Narrator: When people think you're dying, they really, really listen to you, instead of just...
Marla Singer: - instead of just waiting for their turn to speak?
Tyler Durden: Sticking feathers up your butt does not make you a chicken.
Tyler Durden: Tomorrow will be the most beautiful day of Raymond K. Hessel's life. His breakfast will taste better than any meal you and I have ever tasted.
Tyler Durden: You're not your job. You're not how much money you have in the bank. You're not the car you drive. You're not the contents of your wallet. You're not your fucking khakis. You're the all-singing, all-dancing crap of the world.
Bonus Trivia
The reverse-tracking shot out of the trash can, an elaborate digitally animated sequence, was the very last shot to be added to the film. It required so much processing time that it almost had to be spliced in "wet" - i.e., fresh from the lab - so that the film could be duplicated on schedule. Due to the amount of reflective surfaces in the shot, it took almost 8 hours to render a single frame. The entire shot took 3 weeks to render.
In the short scene when Brad Pitt and Edward Norton are drunk and hitting golf balls, they really are drunk, and the golf balls are sailing directly into the side of the catering truck.
The 1st rule of Fight Club is: you do not talk about Fight Club
The 2nd rule of Fight Club is: you DO NOT talk about Fight Club!
3rd rule of Fight Club: someone yells "stop!", goes limp, taps out, the fight is over.
4th rule: only two guys to a fight.
5th rule: one fight at a time, fellas.
6th rule: No shirts, no shoes
7th rule: fights will go on as long as they have to
And the 8th and final rule: if this is your first time at Fight Club, you have to fight.
Verdict
It's my favourite film of all time
Watch it at least twice to get your head around the plot
I've watched it countless times, you should too
So if you like this film review and like the film, hell, even if you didn't like it - Tell me why in the comments or on facebook or twitter